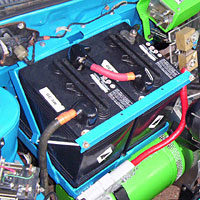 What kind of batteries did we think would be best for the ForkenSwift? Well, "best" required qualification: For us, it meant "cheap". That meant we were probably going to end up with used batteries of the lead acid variety.
Some of the options we considered:
Forklift battery - We knew right away the battery from the Baker forklift wasn't an option - first, because it weighed around 3000 lbs / 1361 kg (practically twice the car's weight). And second, it wasn't included with the forklift. (Literally "batteries not included.")
Truck batteries - The next scheme was to see if we could get our hands on some large format, used, deep cycle 12 volt batteries that transport trucks use to power their lights and "house" loads when parked. The truck service center in town sent old batteries to the recycling depot on a regular basis. Maybe we'd be able to pick through their castoffs and find some gems...
Golf cart batteries - I called a golf cart service company to see if they ever had any used batteries available. They did. But they also told me that any batteries they removed from carts were well and truly dead.
Ultimately we ended up receiving a pile of used 6 volt golf cart batteries from two generous EV owners who had weeded these weaklings from their packs. We've had 3 different packs in the car since its first test drive. See the gallery below for more info and images.
| | | |
| --- | --- | --- |
| < prev. photo | (Click image for larger view.) | next photo > |
Baker forklift battery ... not included
The forklift battery was not included in the purchase - it was a 3000+ lb / 1361 kg monster pack that occupied the entire middle section of the forklift. The company probably kept it to either re-use in another lift truck or to sell to a recycler (the lead content is valuable).

We moved the forklift by putting three 12 volt marine batteries in the compartment and jumper cabling them together in series to make a tiny 36 volt pack. It was enough to turn the machine around and back it into the garage where it was disassembled.