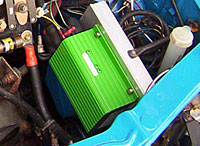 The ForkenSwift has had different 3 golf cart motor controllers in it since it went on the road - each one a power upgrade over the previous one. None of these were the controller we originally thought we would use.
Originally, the plan was to use the 24-48 volt General Electric EV-1 controller that came with the Baker forklift. I'll admit I didn't know very much about how to choose a controller, so my thinking was simply: if it could drive a nearly twenty thousand pound forklift, it must to be OK for a two thousand pound car!
But I never actually tried using the forklift controller in the car, mostly because I was intimidated by the complexity of hooking it up (various external safety, field weakening and bypass circuits... many wires! Oh no!). I'd seen other small, light conversions using relatively simple to hook up golf cart controllers, so that's ultimately the direction things went.
I don't know about Ivan, but I'm pretty satisfied with the performance of the latest 48 volt, 400 amp controller - no urge to upgrade further. Occasionally I think building a controller bypass (turbo button!) would be a fun experiment, but the appeal is more for the project itself rather than because more power is actually needed.
Curtis 1204-412 motor controller
That green box is the controller that's in the car now: a rebuilt Curtis 36-48 volt 400 amp DC motor controller originally from a Club Car golf cart.

This is the third Curtis we've had in the car, even though we weren't planning on using a golf cart controller when we started the project.

Read on for the whole story...