1992 Geo Metro before we bought it
Not a day after deciding the red 1993 Sukuzi Swift was too rusty to repair, I spotted this 1992 Geo Metro in Ivan's neig...

Metro odometer at purchase
April 6, 2006: 186776 km (116057 miles) on the clock when we bought it.

As of Oct 12, 2009: 190420 km (118321 miles)....

1992 Geo Metro and 1993 Suzuki Swift
What does $250 worth of Suzuki clones look like?

The $175 blue 1992 Geo Metro (left) and $75 red 1993 Suzuki Swift si...

Rust holes ground out in the Metro's floor
What appeared at first glance to be a few small patches of rust in the car's floor (passenger side shown) turned out to ...

Rust holes: new metal brazed in
Repair patches brazed into the passenger side floor. Even the metal was donated from the red Swift's flank....

Floor repair finished
Undercoating sprayed over rust repair....

Metro inner fender rust repair
Before and after....

Geo Metro rocker panel patch
Patched both rocker panels as well. They weren't bad, but there rust bubbles were forming on the bottom of each side....

Passed certification
May 19, 2006: The car passes certification with many of the red Swift's good parts swapped over (eg. wheels/tires, contr...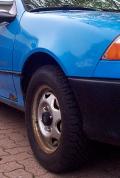 Big snow tires
One of the things the car needed to pass inspection was a set of tires. so, on went a set of snows i last used on my old...

Metro and Swift
Diverging roads: the Swift ready to be put out to pasture; the Metro safety certified and ready to be converted to an EV...

Geo Metro Suzuki Swift Pontiac Firefly hybrid
You could argue that the car was already a hybrid: a combination Geo Metro, Pontiac Firefly (Canadian market Metro) and ...

Metro engine bay
BEFORE: preparing to pull (drop, actually) the 1.0L 3 cylinder gasoline engine from the car....

Metro engine disconnected
During: here the engine and transmission (hidden- engine is turned 90 degrees) have been disconnected and lowered beneat...

Metro engine bay - engine removed
The empty engine bay, a blank canvas. Soon to be known as a "motor bay"....